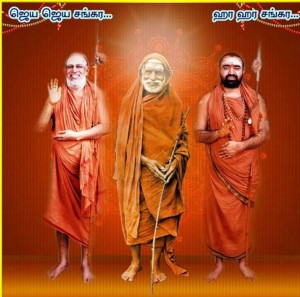 46th ANNUAL SAMASTHI BIKSHAVANDANAM TO THEIR HOLINESS
JAGADGURU SRI JAYENDRA SARASWATI SWAMIGAL & 
JAGADGURU SRI SANAKARA VIJAYENDRA SARASWATI SWAMIGAL at KANCHIPURAM
on Wednesday, 23rd July, 2014
Sankara Bhaktha Sabha Trust which has been the first in offering Bikshavandanam to Their Holiness from the twin cities of Hyderabad – Secunderabad since 1968, will offer the Annual Chathurmasya Samashti Bikshavandanam to Their Holiness
Sri Sankaracharya Swamigal of Sri Kanchi Kamakoti Peetam.
Those desirous of joining the Bhikshavandanam are requested to asssemble at Kanchipuram by 22.07.2014. They are also
requested to inform the Managing Trustee in advance to make necessary arrangements for accommodation.
All the devotees are requested to contribute liberally to make this year's Bikshavandanam a grand success.
Contributions in Cash / kind are also accepted. Cheques / DDs drawn in favour of sankara bhaktha sabha TRUST may also be sent to Veda Bhavan
Sankara Bhaktha Sabha Trust
Veda Bhavan
58-59, Road No.1, Chandragiri Colony (West),
Neredmet, Secunderabad – 500056.
Ph: 040-27227669/040-27229775
Web: www.vedabhavan.org
Email: vedabhavan@gmail.com, ghanapati@gmail.com