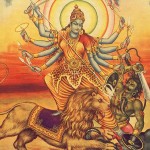 SANKARA BHAKTHA SABHA TRUST is pleased to announce that with the Benign Blessings of Devi Parashakthi and Acharyas, SRI DEVI NAVARATHRI CELEBRATIONS will be Conducted from 01.10.16 to 11.10.16 at
Veda Bhavan. We request all Devotees of to participate in the Celebrations and contribute liberally and receive the Blessings of Devi Parasakthi and Acharyas.
Daily Programme from 01.10.16 TO 11.10.16
06.00 AM TO 10.30 AM :
MAHAGANAPATI HOMAM, NAVAVARANA PUJA, DEVI SAPTHASATHI PARAYANAM
06.30 PM TO 08.00 PM :
SPECIAL ALANKARAM, LALITHA SAHASRANAMA ARCHANA, DEEPARADHANA & MANTRAPUSHPAM.
02.10.16 VEDA SABHA – 3.00 P.M ONWARDS
09.10.16 : DURGASHTAMI
07.00 A.M TO 11.30A.M : SRI SOOKTHA & DURGA SOOKTHA HOMAM, PRASADA VINIYOGAM
3.00 P.M ONWARDS CHANDI HOMAM, SUVASINI & KANNIKA POOJAS
10.10.16 : SARASWATI POOJA
11.10.16 : VIJAYADASAMI
07.00 A.M TO 10.00A.M ABHISHEKAM TO RAJARAJESWARI AMBAL
05.00 PM TO 06.00 PM : LALITHA SAHASRANAMA ARCHANA DEEPARADHANA & MANTRAPUSHPAM.
06.30 PM TO 08.00 PM : PROCESSION OF SRI RAJARAJESWARI AMBAL
DAILY UBHAYAMS /SEVAS
01. Daily Special Alankaram Ubhayam : Rs.2000/-
02. Saptha Sathi Parayanam / Sankalpam : Rs.500/-
03. Chandi Homam : Rs.500/-
04. Suvasini Pooja : Rs.1000/-
05. Kannika Pooja : Rs.500/-
06. Sri Sooktha or Durga Sooktha Homam : Rs.500/-
07. Lalitha Sahasranama Archanai : Rs.51/-