Jagadguru Kanchi Paramacharyal's Jayanthi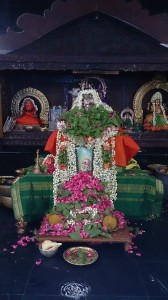 His Holiness Jagadguru Sri Chandrasekarendra Saraswathi Swamigal's 121st Jayanthi Celebrations were held at Vedabhavan today i.e. June 12, 2014.
Poojas and Homams were conducted in the morning and there is an Upanyasam by Sri O.N.Ravi of Mumbai on Parmacharyal Mahimaigal. We pray Lord Parameswara and Paramacharyal for the well being of all the devotees and lokakshema.
करुणारसपूर्ण सुधाब्धे
कामकोटि पीठाधिपते ।
चरणे शरणम् देहि ते
चन्द्रशेखर गुरुमूर्ते ।।