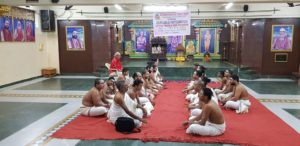 Sankara Bhaktha Sabha Trust is celebrating its Golden Jubilee Year Celebrations and the 45th Year of Krithika Mandala Veda Parayanam is being held during this auspicious  Karthika Masa.
Devotees and Well-wishers are aware that the Sabha has been organising Krithika Mandala Veda Parayanam since 1974 every year during the auspicious period of Karthika Month.
Vibrations created by Vedic Chants have potentiality to bring Various benefits to the entire Universe in the form of peace, progress, prosperity and environmental protection and welfare.
This year Krishna Yajur Veda Krama Parayanam will be performed from 16.11.2017 TO 29.12.2017, daily at 6.00 PM at Vedabhavan by eminent Vedic Scholars.
This is a unique opportunity for the devotees to listen to this Vedic chanting and receive the blessings of Veda Mata. Devotees can also sponsor this Veda Parayanam at their residence with prior appointment with Sabha.
We request the Asthikas to contribute for this programme liberally and extend their co-operation from .
Ubhayam for the same is Rs.1001/-.
Contributions may be sent by Cash or by DD/Cheque drawn in favour of Sankara Bhaktha Sabha Trust
Vedo khilo Dharma Moolam   Dharmo Rakshati Rakshitaha