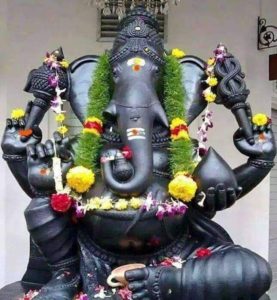 Dear Devotees
We wish you all a Happy Vinayaka Chaturthi. On this auspicious day, our most old members/devotees might be aware that Sankara Bhaktha Sabha born this day in the year 1968 and completes 50 years of yeomen service to the general public. As a responsible culturual, spiritual and social institution, we proudly thank all our well-wishers, volunteers, devotees and donors who have been with us  by participating in all our activities and encouraging all these Years.
On this auspicious day again we propose to give an opportunity to all our well-wishers and devotees to help us to maintain and continue the Nithya Puja and other Kainkaryams to Lord Veda Parameswara and Godesses Rajarajeswari and Acharyals by joining our effort to create a permanent Fund namely Nithya Puja Fund to ensure that daily Puja goes on without interruption permanently and for this purpose we appeal to one and all to contribute Rs.1001/- Per annum in right earnest to build a corpus fund.
Prasadam will be sent to all the subscribers on Vinayaka Chaturthi Day after special puja, homam every year by invoking the blessings of Lord Vigneswara.
Devotees can make online payments  and send email with the transaction details. The Bank details are given below. Foreign donors may please contact ghanapati@gmail, vedabhavan@gmail.com for Bank Details
Sankara Bhaktha Sabha Trust,
STATE BANK OF INDIA, WEST MALKAJGIRI BRANCH,
A/C . NO. 62056523037, IFSC CODE: SBIN0020822
Jaya Jaya Sankara Hara Hara Sankara