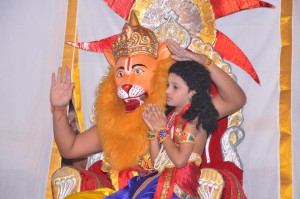 The vidyarthis of Sri Sankara Gurukula Veda Patasala came up with a wonderful drama in Sanskrit on the occasion of Annual Day Celebrations of the Patasala.
Every year, to encourage vidyarthis in sanskrit studies, the Patasala encourages the vidyarthis to come up with various topics from our ancient scriptures. While last year, the drama was about Kalidasa, this year it was Prahlada Charitram. This indirectly helps them to study, memorize various scriptures, dialogues from our sanskrit scriptures and also creates interest in the viewers.
The vidyarthis who acted got only three days to rehearse as Sri V.Sriram Ghanapatigal who comes up with the concept, script and directs was away from the town. The  choice of vidyarthis for the various characters was unparalleled. It should also be noted that even though there were not enough resources in terms of Sound systems, big stage, restricted time etc, the creative ideas of the Vidyarthis helped to put up a great show. One should see it to believe on how natural the drama was. All those who had the opportunity to witness it then felt happy and tears filled there eyes when Narasimha Swamy came out of the pillar to protect Prahlada and kills Hiranyakashipu. The scene moved all the devotees present. One can see the entire drama in the video below:
Credit goes to all the vidyarthis for decorating the stage in a creative manner. All the decorations like the sthamba(pillar), screens, certain costumes were designed and prepared by the vidyarthis themselves.
The entire album can be viewed in the below link
https://www.facebook.com/media/set/?set=a.813733198719815.1073741848.169592499800558&type=1&l=1e894119b5
The nataka was written and directed by Sri V.Sriram Ghanapatigal and the Smt. Padmapriya helped in getting the suitable costumes and make up for all the vidyarthis.
We also thank all those who came up to witness this and also encouraged the vidyarthis. We also thank all our donors, philanthropists and devotees in general who support our Patasala.