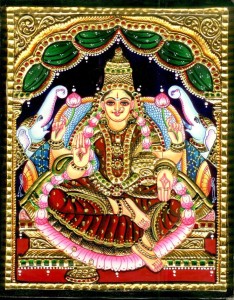 Varalakshmi Vrata is a festival to propitiate the goddess Lakshmi, the consort of Vishnu, one of the Hindu Trinity. Varalakshmi is one who grants boons (Varam). It is an important pooja performed by married women in most of the southern states of Indi. The Hindu festival going by the name 'Vara Lakshmi Vrata' is celebrated on the Second Friday or the Friday before full moon day – Poornima in the month of Śravaṇā, also called Śawan in Hindi and Aadi in Tamil which corresponds to the English months of July-August
Varalakshmi Vrata is performed by married woman for the well being of all the family members, especially husband, to get progeny etc. It is believed that worshiping Goddess Varalakshmi on this day is equivalent to worshiping Ashtalaksmi – the eight goddesses of Wealth, Earth, Learning, Love, Fame, Peace, Pleasure, and Strength. Because of the popularity in some states of India, it is declared as an optional official holiday in India.
There are many stories from various puranas on how this Vrata Puja has been part and how the devotees have attained benefits by performing Varalakshmi Puja
Varalakshmi Vrata Puja Vidhanam
NOTE: While the below Audio Files will be helpful for the devotees to perform Varalakshmi Puja, it is for those who are  in remote places where there are not many Priests/Vadhyars.
Audio Recording by : Sri V. Sriram Ghanapatigal
In case of difficulty or break ups in audio streaming, please download the entire mp3 to your local drive and play.
Audio Files :
Hara Hara Sankara   Jaya Jaya Sankara