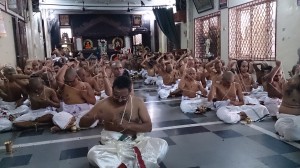 Many devotees thronged Vedabhavan today to perform the annual Yajur Upakarma (Avani  Avittam) .
There has been a lot of wonderful comments from devotees on the availability of Audio Recording for Upakarma. It is definitely a very good indication of how all of us are still yearning to perform our duties without fail.
We pray Lord Parameswara and Paramacharyal for the well being of all the devotees and peace and welfare for mankind.
Also request all the devotees to perform Sahasra Gayathri Japam without fail tomorrow i.e. August 11, 2014. Gayathri Japam is something which has to be performed daily and it gives great benefits. Tomorrow the benefits are manifold.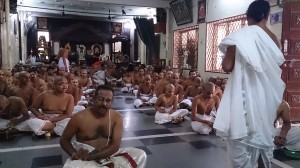 We shall also post Sandhyavandanam and Madhyanikam and other Puja vidhanam for the devotees who are requesting the same.
Please watch out this space for more updates in the next couple of days as we are updating the website with more details about the veda patasala and sabha in a more presentable way. There is also a huge effort to post all details about Sanatana Dharma, Dharma Sastras, Stotras and other information related to our rich heritage and culture.
Also subscribe to our Facebook Page: https://www.facebook.com/vedabhavan
Google Page: https://plus.google.com/u/0/b/110071018925298577077
Jaya Jaya Sankara  Hara Hara Sankara