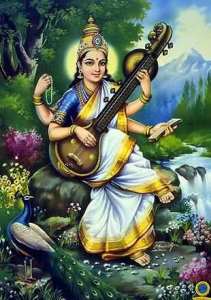 Saraswati Puja is an important part of the Navaratri festival, especially in South India. Saraswati Puja is observed at different times in different parts of India. The last three days of Navratri is dedicated to Goddess Saraswati in Karnataka, Tamil Nadu, Andhra Pradesh and Kerala. Saraswati Puja is also observed in Gujarat during the same period but in a different manner.
Saraswathi Puja is generally observed with Saraswati Avahanam on the Saptami. The last day of Navratri, which is also the Mahanavami day, is also observed as Ayudha Puja and Saraswati Puja. Books and tools are placed in the puja room or in front of the idol or painting of Goddess Saraswati on Saptami.
On Mahanavami, Saraswati Puja is performed to the Pustaka Mandala (Books, tools, etc). and seek the blessings of Goddesses of Learning. The books and tools are not touched untill the next day and they are removed from the pooja on the Vijayadashami day after doing Punar Puja. On Vijayadashami, this is the day of Vidya Arambha. New lessons/Chapters and new assignments are generally taught and started on this day with the blessings of Goddesses.
Audio Recording by : Sri V. Sriram Ghanapatigal
In case of difficulty or break ups in audio streaming, please download the entire mp3 to your local drive and play.
Audio Files :
1. Navarathri Vaibhavam:
 |
Download MP3
2. Vigneswara Puja:
|
Download MP3
3. Saraswati Puja:
  |
Download MP3
4.Uttaranga Puja:
 |
Download MP3
Hara Hara Sankara  Jaya Jaya Sankara