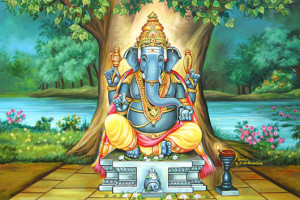 – H.H.Sri Paramacharyal of Kanchi Kamakoti Peetam
It is a special trait of Tamil Nadu, that it has Temples for Pillaiyar or Ganapathi everywhere. Even without a formal name of a Temple, without any roof or walls or building, Pillaiyar can be under a tree, or a road corner, or on the banks of a pond or river, virtually anywhere, you can see him, seated on a pedestal, with the sky as the roof. He has thus occupied more places in Tamil Nadu, than any other God, in any other State. He is lovingly called, 'Pillaiyar', in typical endearing Tamil word, 'Pilly' means Son, and 'yar' is an additive of respect.
Siva and Parvathy as the parents of the Universe, have him as the first son.

'Kumara', also means Son. All over India, Kumara/Kumaran/Kumaraswamy, means the second son of Parvathy Parameswara. In Tamil however the 'yar' suffix is not added to the second son's name, but only to 'Pillaiyar. 
He is the first son, child God. But he is the fore most. First there was 'pranva' or 'ohm'.

Everything came out of that 'pranava' – the entire Universe and all living things. If you look at the elephant face and the rounded trunk of his, it will look like a pictorial symbol of Pranava or Ohm.

Despite being a child, he is also the origin. Being a baby God, he is foremost in lifting the devotees by their hands.
Avvaiyar's experience is truely representative of his extreme beneficience. She was a great devotee of Pillaiyar. She has sung the 'Vinayagar Agawal', concentrating on Pillaiyar at the centre of her eyebrows. The poem in itself contains the essence of 'Yoga Sastra. By chanting that 'Vinayagar Agawal', one can attain Nirvana. 

There are many stories of Pillaiyar and Avvaiyar. The one referred to here is something like this. Sundaramurthy Swamigal, ( one of the great Siva Bhaktas and poets collectively known as Nayanmars), and Seraman, the Chera King, good friends both, started on a trip to Kailasa, the abode of Siva Parvathy, in the Himalayas. They met Avvaiyar enroute. They wished that she should accompany them. She declined, on grounds that, she was busy paying obeisance to Pillaiyar. She told them to proceed, saying, that for her doing prayers to Pillaiyar itself was as good as a visit to Kailash. They continued on their way. Avaiyar completed her Pooja. At the end Pillaiyar appeared before her and in one go, lifted her by his trunks and reached her to Kailasa. On their arrival, Sundaramurthy Swamigal and Seraman, were surprised to see her already there, before them. Seraman sang, 'Thiru Kailaya Ula', a travalogue song of visit to Kailash. This incident is also referred in, Arunagirinather's Thiruppugazh, addressed to Pillaiyar's younger brother, Muruga or Subrahmanya. In one second, the old woman Avvaiyar was fetched to Kailasa. Pillaiyar bestows big boons so easily and freely.