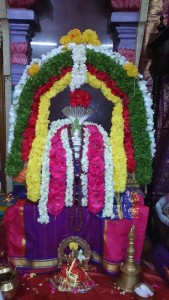 Dear Devotees and Donors
We have observed for the last few months that many of the devotees  are contributing for various sevas and for other nobles cause of our Sabha and Veda Patasala. However, many of them are not sending in their Transaction number and Acknowledgement and also the amount, Name and Address for providing proper Receipts.  While the amount gets credits in the bank, the Banks do not reveal the source of the donors(Name, Mobile Number, Address etc) to us making it tough for us to track the donor and issue receipts. Even though it is repeat payment the same is the case.
We request all the Donors to send in an email confirmation with the Transaction Number, Amount, their Name and Address and Mobile  Number henceforth to issue proper receipts.
We are also happy to announce that most of the Receipts/Payments and Accounts are being automated and hence all the Donors are issued ID nos. for future reference when subscribing for any seva or making any Donation. Hence once it is quoted, we can retrieve all their Nakshatram and Gotram details for Sankalpam, Address details for Communication etc. Donors are requested to quote the same when they are renewing or contributing to any other Sevas again.
In this context, also request the Donors to co-operate with us so that we can collect the amount and issue receipt the next day or send it by post if they are coming in and making the payment in the absence of the Computer operator till we streamline the process.
May Lord Veda Parameswara and Goddesses Rajarajeswari shower their blessings upon one and all
Jaya Jaya Sankara Hara Hara Sankara